Fork Protection Sleeves
Fork Protection Sleeves are the ideal product to use for handling products that mark easily. Longer lengths than the fork can also be supplied to stabilize longer loads.
All our Fork Protection Sleeves are CE Marked and Fully Certified.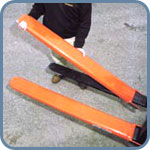 Fork Protection Sleeves have all the features of fork extensions but are coated with a 3mm polyurethane coating designed to offer protection to the load and also add slip resistance. Ideal for handling products such as painted goods & fragile loads. Fitted to the truck using an integral heel bar that slides behind the fork.
| Model Ref | Sleeve Length | Max Fork Width | To Suit Fork Length | Overall Width |
| --- | --- | --- | --- | --- |
| FPS 100-1300 | 1300mm | 100mm | 1220mm | 144mm |
| FPS 100-1600 | 1600mm | 100mm | 1525mm | 144mm |
| FPS 125-1300 | 1300mm | 118mm | 1220mm | 169mm |
| FPS 125-1600 | 1600mm | 118mm | 1525mm | 169mm |
| FPS 125-1900 | 1900mm | 138mm | 1830mm | 169mm |
| FPS 150-1300 | 1300mm | 138mm | 1220mm | 194mm |
| FPS 150-1600 | 1600mm | 138mm | 1525mm | 194mm |
| FPS 150-1900 | 1900mm | 138mm | 1830mm | 194mm |